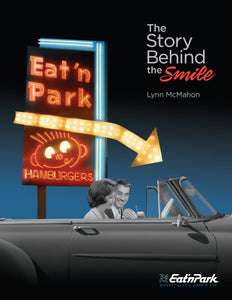 The Story Behind the Smile: Eat'n Park
Eat'n Park Hospitality Group team members share their experiences to paint a vivid picture of the evolution of a 75-year-old family-oriented, community-minded company. They trace its transformation from a single carhop restaurant into a multi-dimensional hospitality group with concepts throughout the eastern half of the United States.

As they follow this once burger-and-shake company with a long history of innovating, readers will enjoy learning how a round sugar cookie from the owner's youth went on to become an instantly recognizable icon and the inspiration behind the company's highly motivating purpose to Create a Smile®.
The Story Behind the Smile relays how Eat'n Park Hospitality Group leaders have blended business savvy with a genuine concern for people to become one of the nation's admired and successful businesses.
Storytelling is a significant thread in the fabric of Lynn McMahon's professional life as an award-winning writer and public relations practitioner. Like most Pittsburghers, Lynn's relationship with Eat'n Park has spanned the various stages of her life. From Big Boy balloons in her childhood; to strawberry milkshakes and onion rings after football games in her teenage years; to business breakfasts that continue today, Eat'n Park has been a part of many of her memories. Everyone who grew up with Eat'n Park has stories to tell and, for Lynn, it's been a privilege to share them through The Story Behind the Smile.
Paperback, 176 pages
January 2023

Please allow two weeks for delivery.
---
We Also Recommend