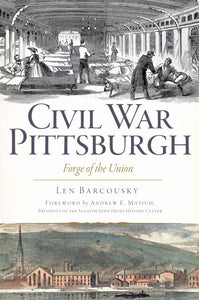 Civil War Pittsburgh
Witness Pittsburgh rally to the cause of the Union

Over the course of the Civil War, the city of Pittsburgh and Allegheny County provided the Union army with troops and equipment—including heavy artillery—in disproportionately large numbers. While no major battles were fought nearby, local soldiers and civilians sacrificed and suffered – the Allegheny Arsenal explosion in September 1862 left seventy-eight dead and was the worst civilian disaster of the war. Thousands dug trenches and joined militia companies to defend their city as others worked to support the wounded soldiers.
Author Len Barcousky draws on the next-day reporting of the predecessors of the Pittsburgh Post-Gazette to craft a gripping and insightful view of the Steel City during the Civil War.

Softcover, 128 pages.
---
We Also Recommend