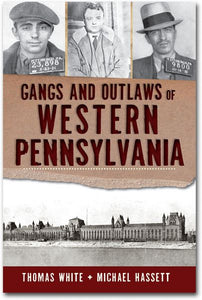 Gangs and Outlaws of Western Pennsylvania
"This life has been tough to me, and the end cannot come too quick, and I don't care how."
                — from the deathbed confession of Jack Biddle, 1902

Violent bank heists, bold train robberies and hardened gangs all tear across the history of the wild west — western Pennsylvania, that is. The region played reluctant host to the likes of the infamous Biddle Boys, who escaped Allegheny County Jail by romancing the warden's wife, and the Cooley Gang, which held Fayette County in its violent grip at the close of the nineteenth century. Then there was Pennsylvania's own Bonnie and Clyde — Irene and Glenn — whose murderous misadventures earned the "trigger blonde" and her beau the electric chair in 1931.
From the perilous train tracks of Erie to the gritty streets of Pittsburgh, authors Thomas White and Michael Hassett trace the dark history of the crooks, murderers and outlaws who both terrorized and fascinated the citizenry of western Pennsylvania.

Softcover, 132 pages.
---
We Also Recommend