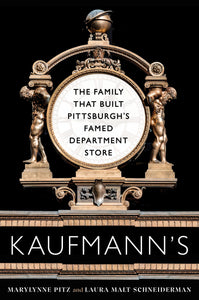 Kaufmann's: The Family That Built Pittsburgh's Famed Department Store
Written by Marylynne Pitz and Laura Malt Schneiderman
In 1868, Jacob Kaufmann, the nineteen-year-old son of a German farmer, stepped off a ship onto the shores of New York. His brother Isaac soon followed, and together they joined an immigrant community of German Jews selling sewing items to the coal miners and mill workers of western Pennsylvania. After opening merchant tailor shops in Pittsburgh's North and South sides, the Kaufmann brothers caught the wave of a new type of merchandising—the department store—and launched what would become their retail dynasty with a downtown storefront at Fifth Avenue and Smithfield Street. In just two decades, Jacob and his brothers had ascended Pittsburgh's economic and social ladder, rising from hardscrabble salesmen into Gilded Age multimillionaires.

Generous and powerful philanthropists, the Kaufmanns left an indelible mark on the city and western Pennsylvania. From Edgar and Liliane's famous residence, the Frank Lloyd Wright masterpiece called Fallingwater, to the Kaufmann clock, a historic landmark that inspired the expression "meet me under the clock," to countless fond memories for residents and shoppers, the Kaufmann family made important contributions to art, architecture, and culture. Far less known are the personal tragedies and fateful ambitions that forever shaped this family, their business, and the place they called home. Kaufmann's recounts the story of one of Pittsburgh's most beloved department stores, pulling back the curtain to reveal the hardships, triumphs, and complicated legacy of the prominent family behind its success.
Read the Pittsburgh Post-Gazette's review here!
"I love this book. It's an immigrant story, important Jewish history, a tale of amazing retail success, some juicy inside family info, and it also offers a concise explanation for some of the local, national, and international forces that allowed the rise and eventual end of the great era of beautiful, big, important department stores. It's also got Fallingwater, the old tradition of holiday windows, fancy boutiques, and the Tic-Toc restaurant. It's an all-important Pittsburgh history."
- Rick Sebak, public television writer and producer, WQED Pittsburgh
Hardcover, 280 pages. Paperback coming soon!
---
We Also Recommend