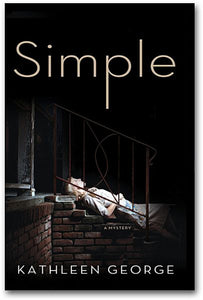 Simple
"If anyone's writing better police thrillers than George, I don't know who it is."
                                                                                   — Tina Jordan, Entertainment Weekly

Mike Connolly is likeable, aiming to run for governor — and he wears his considerable wealth and privilege modestly. Cassie Price, a paralegal at his family's Pittsburgh law firm, is brilliant, earnest and beloved — and can't help falling in love with Connolly. When she's found dead in the house she just purchased, suspicion falls immediately on Cal Hathaway, the neighborhood handyman who finds her body.

Detectives Coleson and McGranahan sew up the case with a confession from Hathaway just as Commander Christie returns from vacation. In spite of the physical evidence, Christie is uncertain so he reopens the investigation. Along with Colleen Greer, Artie Dolan, and John Potocki, Christie tries to substantiate Cal's confession. In the process, the police unearth secrets of politics, riches, class, and race. Determined (and sleepless), the four detectives pursue an unusual set of clues until they end up in a midnight-to-dawn chase.

Hardcover, 336 pages.
---
We Also Recommend