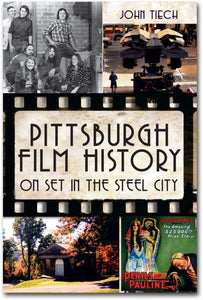 Pittsburgh Film History: On Set in the Steel City
Pittsburgh has been part of the film industry since the days of silent film. Yet, it was not until the 1951 classic Angels in the Outfield — set at Forbes Field — that the Steel City had its first major role on the silver screen. Greater Pittsburgh's film and television industry has since produced favorites such as children's program Mister Rogers' Neighborhood, cult classic Night of the Living Dead, and Christopher Nolan's The Dark Knight Rises.
From the first nickelodeon and "film row" of those early days to the locations and cutting-edge sets of today, local author John Tiech takes a behind-the-scenes tour of Pittsburgh cinema.

Softcover, 164 pages.
Read CNN's article "Pittsburgh reinvents itself as the new Hollywood."
---
We Also Recommend