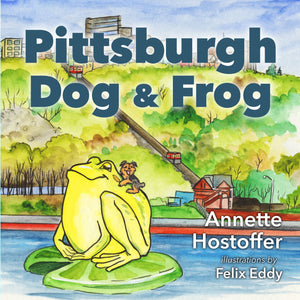 Pittsburgh Dog & Frog
"Pittsburgh Dog & Frog" is a one-of-a-kind children's book that engages families to explore Pittsburgh's scenery, historic sites, landmarks, and more. Tour Pittsburgh with a hometown dog named Heinz who forms a friendship with a big, yellow, rubber frog that's floating on the Ohio River.
This action-packed book is whimsical, fanciful, and a great learning tool. Discover the best Pittsburgh places to visit and then explore the sites on foot!
Here's what readers are saying about "Pittsburgh Dog & Frog:"
"I sent the book to my grandkids in New York. When they visit me in Pittsburgh, we
can go to all those places in the book." Judy M.
"My daughter wants to see the three bridges that all look alike. She says they should be called triplets." Jim H.
Pittsburgh illustrations and factoids in the book include:

The Three Sisters Bridges
George Washington and Guyasuta
The Hot Metal Bridge
The Gulf Tower (and its colorful beacon)
Pittsburgh's Cookie Table tradition
Softcover, 48 pages, 24 illustrations
Ages 3 to 8
Contact the author: Annette Hostoffer lives and works in Pittsburgh, PA. (412) 431-3283 or ahostoffer@comcast.net.
---
We Also Recommend