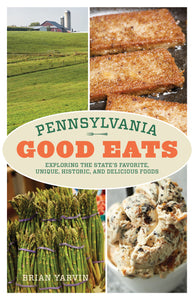 Pennsylvania Good Eats: Exploring the State's Favorite, Unique, Historic, and Delicious Foods
Pennsylvania is filled with all sorts of unique and delicious foods. Historic dishes like scrapple and buckwheat cakes form part of an edible record. Smoked sausages, fried noodles, and the component parts of a pizza are all history on a plate. But where do you find these things? And what makes them great?
In order to discover the answers, we'll have to leave the kitchen and hit the road. Pennsylvania Good Eats visits food landmarks across the state and tells readers why they're worth a taste. Out in the country, we stop at farmer's markets, artisan shops, and roadside restaurants. Where things are more built up, we stroll the neighborhoods. With old dairymen selling off to young organic growers, ethnic areas popping up around college campuses, trained chefs seeking out new locations for fine dining restaurants, and new artisans reaching back to recreate foods that we used to think were dead and gone, it's the right time to take a fresh look at what Pennsylvania eats.
Brian Yarvin has been a commercial photographer for over forty years. For the past fourteen years, he has been writing as well and is the author of several books. He has also taught food photography workshops at the Pennsylvania College of Art and Design in Lancaster. He currently live in Lancaster, Pennsylvania with his wife and fellow food fanatic Maria Grazia Asselle.
Softback, 240 pages
Please allow two weeks for delivery.
---
We Also Recommend