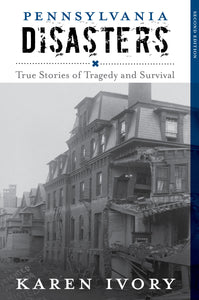 Pennsylvania Disasters: True Stories of Tragedy and Survival
True accounts of major disasters in Pennsylvania history are retold in this engagingly written collection. From the Johnstown floods of 1889 to the heroic actions on United Flight 193 on 9/11, Pennsylvania has been home to some of the nation's most dramatic moments. Each story reveals not only the circumstances surrounding the disaster and the magnitude of the devastation but also the courage and ingenuity displayed by those who survived and the heroism of those who helped others, often risking their own lives in rescue efforts.
Karen Ivory, a former broadcast journalist in Philadelphia and New York, is a freelance writer happily based in the City of Brotherly Love.
Softcover, 252 pages
Please allow two weeks for delivery.
---
We Also Recommend