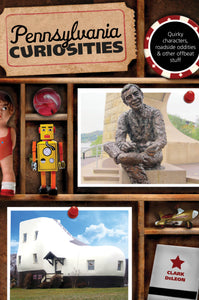 Pennsylvania Curiosities, Fourth Edition
The Liberty Bell, Gettysburg, and Independence Hall may stand out as prominent Pennsylvania features, but the Keystone State is also home to bizarre places, personalities, events, and phenomena. These unique and quirky aspects are humorously displayed in Pennsylvania Curiosities, a cross between a wacky news gazette, an almanac, and a humorous travel guide.
Clark DeLeon writes a popular column for Metro, Philadelphia's newest daily newspaper. For two decades he wrote an award-winning daily column, "The Scene," for the Philadelphia Inquirer. He lives in Philadelphia.
Softcover, 320 pages
Please allow two weeks for delivery.
---
We Also Recommend