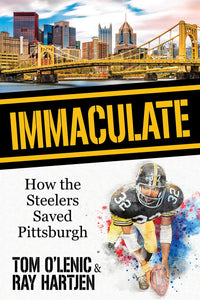 Immaculate: How the Steelers Saved Pittsburgh
A non-fiction book written by Tom O'Lenic & Ray Hartjen
December 23, 2022 marks the 50th anniversary of the "Immaculate Reception," the
National Football League's greatest and most memorable play. Defying probability —
and perhaps even physics — Franco Harris' catch and resulting touchdown run
propelled the Pittsburgh Steelers past the Oakland Raiders in a stirring AFC Divisional
Playoff game. The catch served as an inflection point in the fortunes of the Steelers,
who had been perennial also-rans for their entire 40 years of existence.

Just when the Steelers rose to become championship contenders, the city of Pittsburgh
fell into crisis as its once mighty steel industry collapsed under domestic economic and
global marketplace pressure. When the city needed something to hold onto, the
Steelers provided them foundational strength and a source of pride.
Immaculate: How the Steelers Saved Pittsburgh tells the story of a city, its citizens and its beloved professional football team, and how they rallied together to transform their collective fate.
"Come for the football, stay for the history."
- Cam Inman, San Francisco 49ers Beat Reporter, Bay Area News Group

"The Steelers, both as an organization and an identity, are Pittsburgh - full stop.
There are precious few communities like it, and Immaculate: How the Steelers
Saved Pittsburgh, is a collection of all the stories, past and present, that makes
Pittsburgh a Steelers town, and the Steelers a treasured source of Pittsburgh pride."
- Nick Mehta, CEO of Gainsight (and self-proclaimed 'wannabe Pittsburgh Steelers
football player who plays day-job as a leader of technology companies')
Paperback, 370 pages
Proceeds from the sale of this book will be donated to the UPMC Hillman Cancer Research Center. 
The book will be hand signed by authors Tom O'Lenic & Ray Hartjen. Autographs are exclusive to the PG Store — you can't get this anywhere else!
---
We Also Recommend