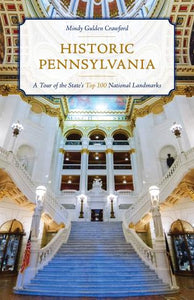 Historic Pennsylvania: A Tour of the State's Top 100 National Landmarks (2019)
Historic Pennsylvania: A Tour of the State's Top 100 National Historic Landmarks is a carefully curated travel guide, written by a local historian, featuring the most intriguing and significant of the state's nationally recognized historic landmarks. This guide provides interesting anecdotes and color photography of famous homes and churches, man-made wonders set amid the splendor of nature, and the crumbling remains of the region's industrial, coal mining past. Tour the Keystone State and travel back in time with Historic Pennsylvania.
Mindy Gulden Crawford has been the Executive Director of Preservation Pennsylvania since 2006, after spending 24 years at Historic York, Inc. Mindy is also an adjunct professor at Penn State Harrisburg and York College of Pennsylvania and serves on the Board of the National Alliance of Preservation Commissions. In her spare time, Mindy enjoys exploring the Lincoln Highway and other old roads looking for great roadside architecture and participating in Civil War dancing or living history events with her husband, Rodney. She lives in Hanover, Pennsylvania.

Softcover, 192 pages
Please allow two weeks for delivery.
---
We Also Recommend