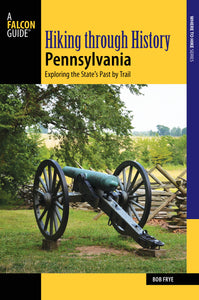 Hiking through History Pennsylvania: Exploring the State's Past by Trail
Imagine hiking along a wooded trail and stumbling upon the stone foundation of a crumbled building, the wooden slats of the walls caved in, the ironwork of the hinges still dangling on the burned out door. This discovery piques your interest—what is this? What's its significance? How can you find out?
Enter the "Hiking through History" series. The hiking guidebooks, which profile approximately forty hikes (all trails, of varying degrees of difficulty), go beyond simply stating miles and directions and GPS coordinates for each hike to include rich descriptions of the history underfoot. From historic battlefields to early settlement sites and more, these books are the perfect companion for any hiker with an interest in history. Make no mistake—these are hiking books first and foremost, complete with rich photos and detailed maps, but with added extras and sidebars detailing enough historical information to satisfy every curiosity along the way.

Bob Frye is a lifelong outdoorsman and resident of southwestern Pennsylvania, so he's spent decades roaming the woods and fields covered in this book.

Softcover, 272 pages
Please allow two weeks for delivery.
---
We Also Recommend