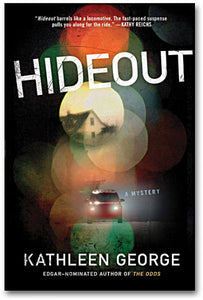 Hideout
"Kathleen George has created another taut page-turner filled with unpredictable twists, memorable characters and a subtle exploration of class tensions."

                          — From Post-Gazette review by freelance writer Cristina Rouvalis

Jack and Ryan Rutter are riding wild in their red truck one May night. Ryan is crazy with booze and crack. Jack is trying to calm Ryan when Ryan hits and kills a young mother of two on Pittsburgh's North Side. The brothers flee north to Sugar Lake, the summer community where they vacationed as children.

Detective Colleen Greer is the first on the scene of the young woman's death. She and Commander Richard Christie, along with Christie's favorite detectives Artie Dolan and John Potocki, must trace the Rutter boys from the slimmest of leads. Nobody knows where they've gone. Nobody knows Jack is searching out a memory of a time when he was happy as a boy and that Ryan, perpetually unsettled, forever angry, is not finished wreaking vengeance on the world.

Softcover, 312 pages.
---
We Also Recommend