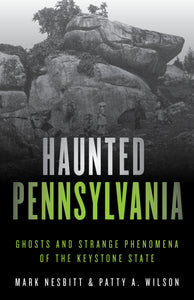 Haunted Pennsylvania: Ghosts and Strange Phenomena of the Keystone State, Second Edition
Eerie stories of ghosts, spirits, and hauntings from across the Keystone State.
Mark Nesbitt is the author of the popular Ghosts of Gettysburg, a six-volume series that received the National Paranormal Award in 2004. Formerly a National Park Service ranger and then a battlefield guide, he has lived in Gettysburg since 1971. Patty A. Wilson is the author of several books on Pennsylvania hauntings, including The Pennsylvania Ghost Guide and The Big Book of Pennsylvania Ghost Stories, and coauthor of Boos and Brews with Scott Crownover.
Softback, 160 pages
Please allow two weeks for delivery.
---
We Also Recommend