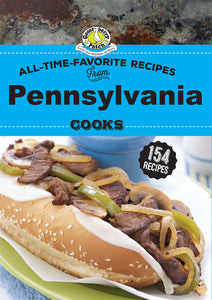 All Time Favorite Recipes from Pennsylvania Cooks
Pennsylvania Cooks share the recipes that are dear to their hearts.
Gooseberry Patch was founded nearly 30 years ago by Vickie Hutchins and Jo Ann Martin, two moms looking for a way to do what they loved and stay home with kids too. Gooseberry Patch is best known for their collection of family-friendly, community-style cookbooks. Each book is created with today's time-strapped, budget-conscious families in mind and filled with recipes shared by cooks all across the country… with some from friends in Canada and occasionally "across the pond". Along with treasured family recipes, each book includes the stories the go along with these tried & true dishes.
Hardback, 152 pages
Please allow two weeks for delivery.
---
We Also Recommend