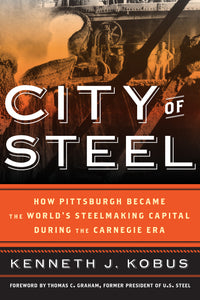 City of Steel: How Pittsburgh Became the World's Steelmaking Capital during the Carnegie Era
Despite being geographically cut off from large trade centers and important natural resources, Pittsburgh transformed itself into the most formidable steel-making center in the world. Beginning in the 1870s, under the engineering genius of magnates such as Andrew Carnegie, steel-makers capitalized on western Pennsylvania's rich supply of high-quality coal and powerful rivers to create an efficient industry unparalleled throughout history.
In City of Steel, Ken Kobus explores the evolution of the steel industry to celebrate the innovation and technology that created and sustained Pittsburgh's steel boom. Focusing on the Carnegie Steel Company's success as leader of the region's steel-makers, Kobus goes inside the science of steel-making to investigate the technological advancements that fueled the industry's success. City of Steel showcases how through ingenuity and determination Pittsburgh's steel-makers transformed western Pennsylvania and forever changed the face of American industry and business.
Kenneth J. Kobus is a railroad and steel industry expert. He has worked in the steel industry in western Pennsylvania for over forty years.
316 pages, 6 x 9" trade paperback, 89 illustrations, 21 tables
April 2021
---
We Also Recommend