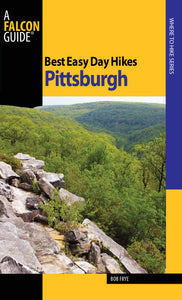 Best Easy Day Hikes Pittsburgh, First Edition
Best Easy Day Hikes Pittsburgh includes concise descriptions of the best short hikes in the area, with detailed maps of the routes. The 18 hikes in this guide are generally short, easy to follow, and guaranteed to please.

Bob Frye is outdoors editor of the Tribune-Review newspaper in Pittsburgh. He's written countless articles on the region's woods and wildlife for newspapers and regional and national magazines. He is the author of Paddling Pennsylvania, Best Hikes Near Pittsburgh, and Best Easy Day Hikes Pittsburgh (all FalconGuides). He's made numerous appearances on Pittsburgh TV and radio stations, discussing opportunities to get out and explore the region's outdoors, the environment, and wildlife management. 
Softback, 112 pages
Please allow two weeks for delivery.
---
We Also Recommend