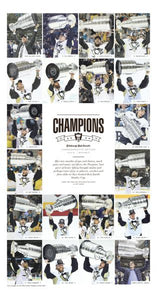 2016 Stanley Cup Commemorative Section Front Page Poster | Pittsburgh Penguins
Celebrate the Penguins' Stanley Cup championship team with this poster. The Post-Gazette commemorative section front page poster features key members of the 2016 team holding the Stanley Cup.
From left to right: Coach Mike Sullivan, Olli Maatta, Justin Schultz, Trevor Daley
Matt Cullen, Pascal Dupuis, Nick Bonino, Chris Kunitz
Bryan Rust, Marc-Andre Fleury
Matt Murray, Tom Kuhnhackl
Conor Sheary, Kris Letang, Carl Hagelin, Evgeni Malkin

Patric Hornqvist, Phil Kessel, Sidney Crosby, Owner Mario Lemieux
Size: 20" x 30"
---
We Also Recommend