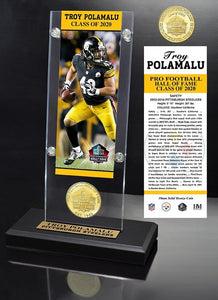 Troy Polamalu 2020 HOF Bronze Coin Ticket Acrylic
A 3.5"x 9" screw down acrylic ticket and coin holder with a wood base. It features a commemorative player Hall of Fame Induction ticket and a 39mm minted bronze HOF class of 2020 commemorative coin. The ticket lists your favorite players bio on the back, and it can be easily removed. Each acrylic is delivered with a wood stand that also includes an engraved nameplate.
This collectible is Officially Licensed by the NFL and NFLHOF. Proudly made in the USA by The Highland Mint.
Please note that this product may take up to 2-3 weeks for delivery.
---
We Also Recommend